UK labour market to start cooling down as post-Covid jobs boom loses pace
The ONS data release (17th January 2023) shows the UK labour market cooling down as the number of vacancies fall for the sixth consecutive quarter to 1,161,000. This is still historically high, and businesses continue to hire as ONS reports 27,000 more jobs were created in the past three months.
Despite recession fears, the UK economy is estimated to have grown by 0.1% in November 2022 and averted a technical recession for the time being. However, ONS states that the fall in the number of vacancies is a testament to the economic uncertainty across industries as recruitment slows down.
The UK labour market is expected to rebalance as the post-Covid jobs boom loses pace. While record levels of vacancies start returning to normal levels, unemployment is expected to peak at 4.9% by the end of 2024 – compared to a peak of 8.4% during the 2008/09 recession.
Key findings from the ONS data
The employment rate remained steady throughout the year around 75%, as well as the unemployment rate (3.7%).
Over the past few months, there was a decrease in the number of 'economically inactive' people as older workers and those aged 16 to 24 years joined the workforce.
The data shows the importance of financial stability and increasing earnings for workers as the number of employees and part-time self-employed workers increased, while full-time self-employed workers decreased.
Average earnings with bonuses included reached 6.4%, which is ahead of expectations. However, the real pay fell by 2.6% in 2022 due to inflation.
27,000 jobs were created in the past three months and the number of payrolled employees reached a record 29.9 million as ONS predicted.
Labour and skills shortages continue to affect UK businesses

According to the latest ONS data, the economic inactivity rate decreased between September and November, due to more people aged 16 to 24 and 50 to 64 years old looking for work. The unemployment rate consequently increased slightly as well but remains low.
ONS data shows that this increase in unemployment was largely driven by 16 to 24 year olds. 83% of young people say Covid-19 has had a negative impact on their career prospects, and 54% of employers have struggled to hire entry level talent over the last two years. Therefore, UK employers should consider providing more entry-level opportunities for young people, which can counteract labour shortages now and in the future.
At the same time, the number of economically inactive is still high, as many workers over 50 have left the workforce during the Covid-19 pandemic. This is causing ongoing skills shortages and the government is working on plans to encourage employers over 50 back to work. Our research shows that pay rises, job satisfaction and wellbeing measures play an important part in retaining older talent.
Real pay falls at near-record levels despite salary growth
Salaries are still a hot topic as the rising cost of living cuts disposable household income. Although the average regular pay (excluding bonuses) has seen the strongest growth rate (excluding the pandemic period), real pay in 2022 fell by 2.6% due to the high inflation rate.
This has pushed employees to demand pay rises, cost of living bonuses, and help with WFH costs. Additionally, salaries weigh heavily on candidates' preferences when seeking a new opportunity. As a result of the rising cost of living, 62% of jobseekers are now more likely to ignore a job posting that doesn't disclose salary information. The majority (68%) also say they are more likely to pay closer attention to job roles and benefits and apply to a higher number of jobs than usual (52%).
Although recruitment is expected to slow down in 2023, the ongoing labour shortages are helping employees strengthen their negotiating positions. Consequently, 39% of employers say meeting salary expectations is a key challenge in 2023.
Totaljobs' overview of the recruitment landscape
Our latest Hiring Trends Index provides an in-depth look at the effect of inflation and the rising cost of living on employees and candidates, as well as employers' plans to tackle their hiring challenges in 2023.
Less than a third (30%) of businesses increased recruitment in Q4 compared to 35% in Q3.
In 2023, employers expect inflation's impact on business costs (41%) and meeting salary expectations (39%) to be their key challenges.
One third (31%) of employees are planning to look for a new job in 2023, down from 90% in 2021 – pointing to the end of the Great Resignation.
The pressure of finding the right talent continues to impact business, as more than a quarter (27%) expect filling vacancies will be challenging in 2023.
The average mean time to hire has slightly decreased in the final quarter of 2022, falling to 6.4 weeks from 6.8 in Q3. This is still higher than the average time to hire in 2021.
Higher salaries are the top driver behind job searches (57%) in next 12 months as jobseekers aim to counteract the rising cost of living.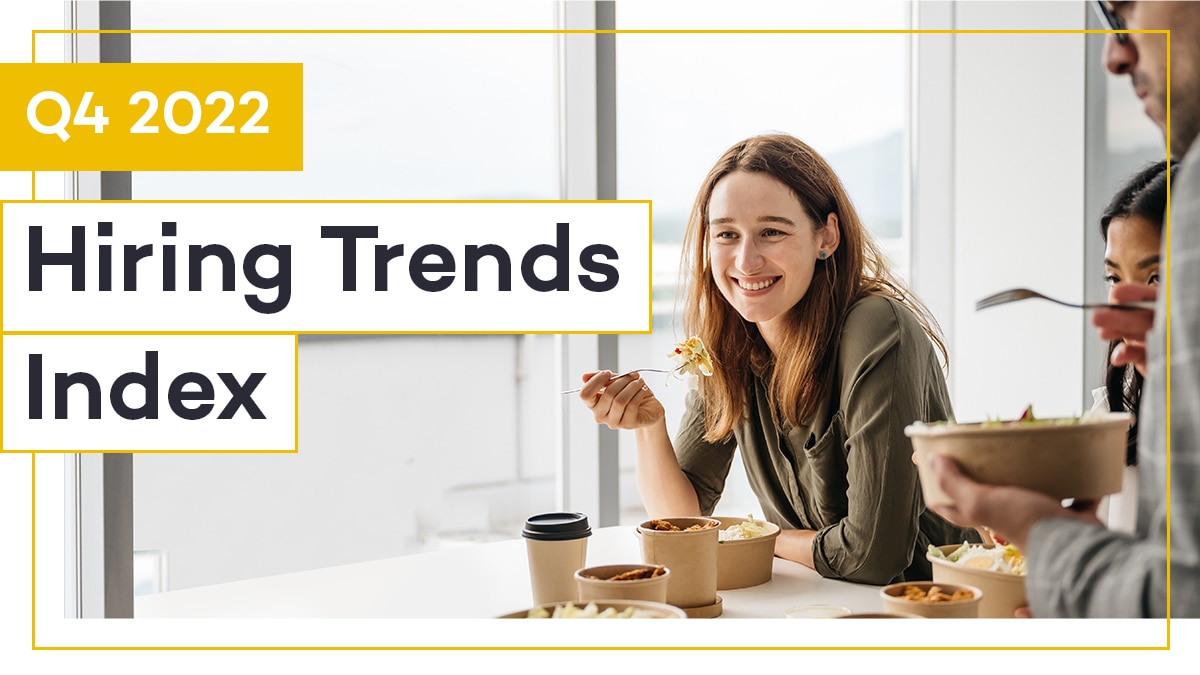 Hiring Trends Index: a look at the recruitment landscape of Q4 2022
Totaljobs' Hiring Trends Index provides a quarterly view of the UK job market and the recruitment trends shaping it. In this edition, we look back at the final quarter of 2022 to understand how economic factors such as the cost of living are impacting UK businesses, workers, and jobseekers. Additionally, we draw on insights from HR decision-makers to predict the 2023 recruitment landscape.
Read the latest Hiring Trends Index to learn more about how economic factors are influencing the labour market and what employers are doing to attract and retain workers.