Returning to work after maternity leave: How employers can support working mothers
New research from Totaljobs and the Fawcett Society highlights the lack of support new mothers receive at work, and the long-term effect this has on their opportunities. The report deep dives into the challenges working mothers face when returning from maternity leave as they balance childcare responsibilities. Plus, the impact on businesses.
Explore our key insights below, or download the full guide, to see how you can uplift, engage, and champion working mothers throughout their career, while attracting new talent and retaining your valued workforce.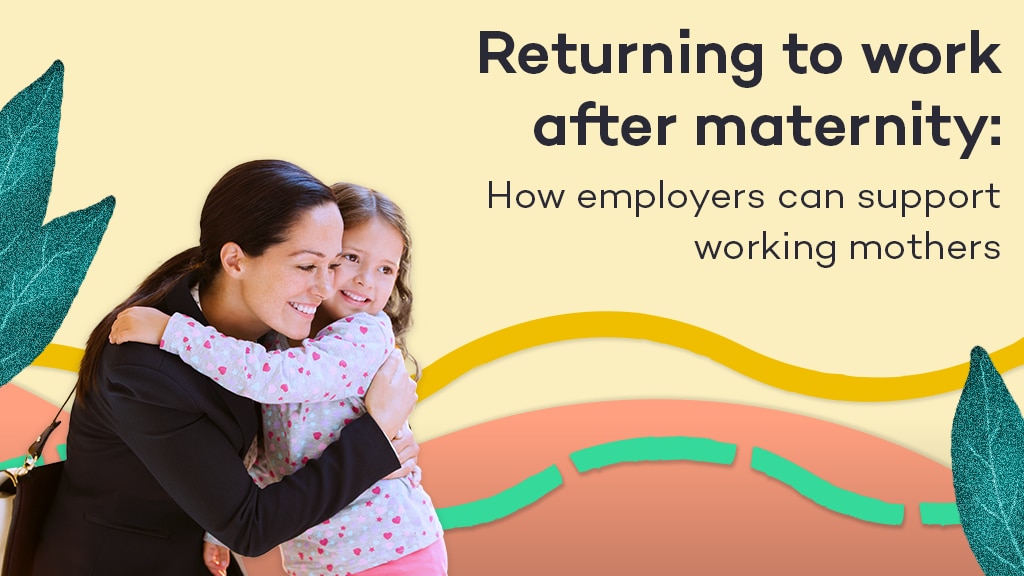 While the 'new parent' phase is relatively short – and the saying goes 'they grow up so fast' – the impact of early parenthood can prove make or break for a woman's career.
That's why, for this second instalment in our 'Paths to parenthood' series (following our research into fertility in the workplace), we've partnered with the Fawcett Society again to explore the experiences of women returning to the workplace after maternity leave – and how businesses can best support.
Our research report gathered insights from surveys (of 3,000 working parents with children aged four and under, 500 HR decision makers, and 1,254 working adults across the UK) and from focus groups to get a 360 degree view of the current challenges and barriers impacting working parents – and in particular, mothers.
Here's what our research found.
Key findings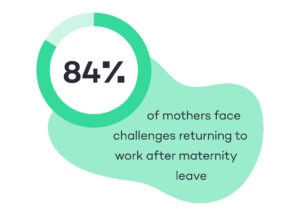 84% of mothers face challenges returning to work after maternity leave.
30% of mothers receive no support when returning to work.
Flexible working is the #1 type of support parents call for, but only 31% of mothers currently have a flexible arrangement.
72% of parents have had to take unpaid leave due to their childcare responsibilities.
A fifth (19%) of mothers have considered leaving their job due to a lack of parental support, with 11% handing in their notice.
79% of mothers face barriers advancing their career while balancing childcare.
85% of mothers struggle to find a job that can accommodate their childcare needs.
72% of mothers find employers who offer family-friendly benefits more attractive, with 66% of all workers agreeing
State of play: Bias and inflexibility impact working mothers long-term
From the moment a woman announces her pregnancy, she faces challenges that continue to affect her throughout her career. 54,000 women lose their job annually due to maternity discrimination and, further down the line, over three quarters of mothers (77%) experience discrimination at work.
Despite these hurdles, 76% of UK mothers are employed – the highest employment rate to date – highlighting the need for workplaces to evolve as the number of mothers continue to grow at work.
Mothers face career hurdles fuelled by bias, a lack of awareness and inflexibility, which is having a long-term impact on their progression and earnings.
On average, mothers with two children earn 26% less than women without children, while fathers see their earnings rise. This inequality worsens the gender pay gap, which see's mothers earning 10% less than their male counterparts at the birth of their child, decreasing to 30% less by the time the child reaches 20.
A lack of flexibility is also contributing to inequality. Almost a third (31%) of mothers struggle to find the flexible hours they need to balance work and family commitments (compared to 17% of fathers). As a result, 79% of mothers face difficulty advancing their career.
Furthermore, the current cost of living and childcare crisis brings more challenges for working mums. With 40% of councils seeing a spike in nursery closures in 2022, and childcare costs taking almost half (48%) of the average London salary, parents and particularly mothers are feeling the pinch.
The UK Government are looking to improve the lack of accessibility and affordability of childcare by increasing the 'free hours entitlement' for parents and raising the hourly rates for childcare providers. However, these plans won't be fully rolled out until 2025, with proposed wages still falling short of inflation.
Although change needs to be driven by Government, there is opportunity for businesses to learn how to support and celebrate mums as they return to work and navigate their childcare responsibilities. In turn, this could see boosted engagement, productivity and retention across their workforce.
The challenges new mothers face returning to work
Becoming a mother is a life changing experience for many women and can come with a myriad of challenges – especially when balancing work commitments.
The average mother takes 39 weeks of maternity leave with 89% returning to their previous employer following this period. However, the vast majority, (84%) of mothers experience challenges when transitioning back to work. These include:
Feelings of anxiety or guilt around leaving their child with childcare (45%)
Balancing work and childcare commitments (39%)
Affording childcare (35%)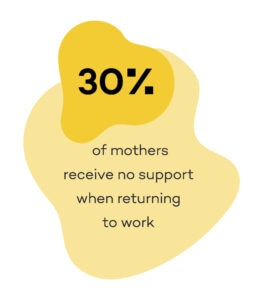 Despite these challenges, 30% of mothers receive no support from their employer during this critical time of transition. Furthermore, only 31% have access to flexible work arrangements, despite this being top of the list of the support they'd find the most useful.
This may be why almost three-quarters (72%) of mothers need to take unpaid leave to juggle childcare, with a fifth (19%) considering leaving their job from a perceived lack of support (and 11% sadly handing in notice).Of course, this is a huge loss of skills, potential and value to any business.
Employers are taking action to better meet the needs of working mothers, but face their own blockers. 85% of businesses say they have policies in place to support mothers returning to work, however when trying to improve or bolster these benefits they come up against:
A lack of budget (28%)
Limited availability of childcare services in the area (27%)
Difficulty in accommodating flexible working (25%)
Ultimately, our research points to a disconnect between the support that is offered by employers and the help mothers have access to (or would truly find valuable).
By addressing these concerns, employers have the opportunity not only to set mothers up for success during those challenging early months of parenthood – but to help them thrive for the rest of their working lives too.
Championing working mothers benefits businesses
Supporting mothers at work is mutually beneficial to workers and employers, ultimately making a better workplace for everyone, here's how: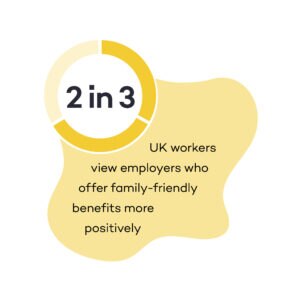 Become a more attractive workplace
2 in 3 (66%) of all UK workers (not just parents) view employers who offer family-friendly benefits as more appealing, so by highlighting support of this nature in your recruitment communications, you can widen your reach and diversify your talent pool.
Manage absences and boost productivity
72% of parents have needed to take unpaid leave from work to manage childcare responsibilities. Allowing greater flexibility means parents can pick up work tasks around their family commitments (or vice versa).
Improve staff engagement and retention
73% of HR leaders agree that providing family-friendly policies and support is a positive investment, with almost half (48%) saying this increases retention.
Create a more inclusive workplace that champions gender equality
Only 27% of HR decision makers see the link between gender equity and family-friendly benefits.
By investing in family-friendly practices, employers are helping to level the playing field for working mothers, addressing the areas that hold back their earning and development potential – and feed into the Gender Pay Gap.
Top tips: How employers can support mothers at work
With three-quarters (74%) of HR leaders finding it difficult to roll out the right support for working mums, we've worked with the Fawcett Society to outline the steps you can take to uplift mothers at work, while benefiting your wider organisation:
Foster a positive and inclusive workplace culture
Create a culture that understands the challenges mothers face and highlight how supporting mothers now will have long-term impact to their career.
Learn how other leading businesses are fostering family friendly workplace cultures, and the success they've seen so far in our employer case study.
Build a clear policy framework
Building a policy (or framework of policies) allows for parents and managers to understand each other's expectations, and the support they have access to.
Learn more about how you can build an affective maternity policy, plus the legal rights around maternity leave.
Upskill your managers
Train managers to actively listen to the needs of women and working parents, asking how they like to receive support and feedback.
Support paternity leave
Embed flexible work options
Support employees to find flexibility that works for both you and them (for example: compressed hours, term-time only, part time, job share). Don't use unsubstantiated "business needs" to justify refusing flexible working requests.
To learn more about how your business can benefit from supporting mothers at work, read our latest guide: Paths to parenthood: Uplifting new mothers at work