Returning to the workplace: actions for employers
With half of UK workers keen to be back in their usual workplace by the end of June 2020, but many understandably concerned over their safety in light of Covid-19, we take a look at what businesses can do to ensure they take the necessary precautions once the 'out of office' is over.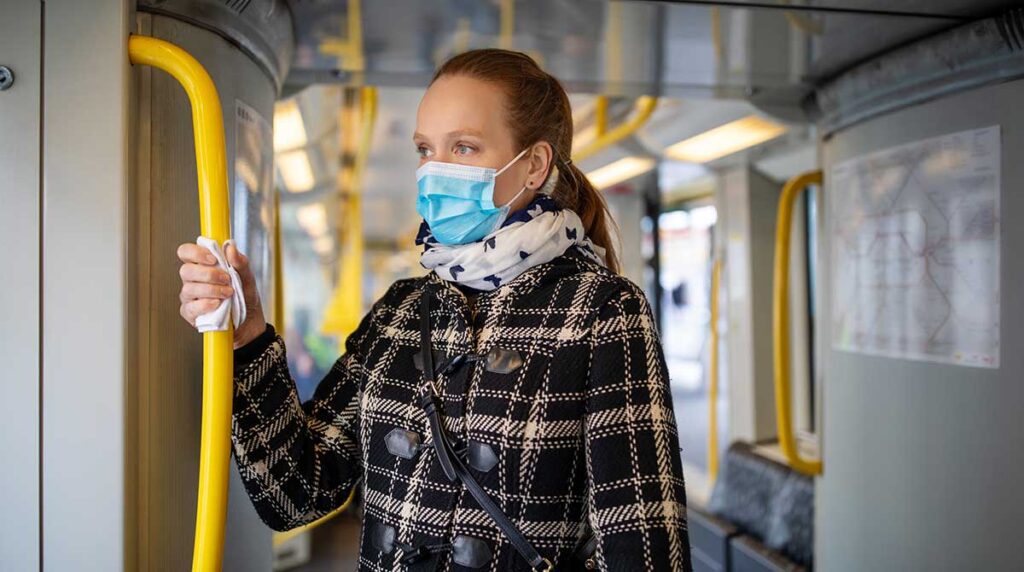 The outbreak of Covid-19 has meant a significant amount of change for the vast majority of people in the UK, and has seen businesses and employees adapt to new ways of working. In fact, only 15% of workers believe their working or employment conditions haven't been affected by the pandemic or lockdown.
The latest Totaljobs research shows half (49%) of UK workers now want to return to their workplace, with 54% aspiring to be back in the workplace by the end of June 2020.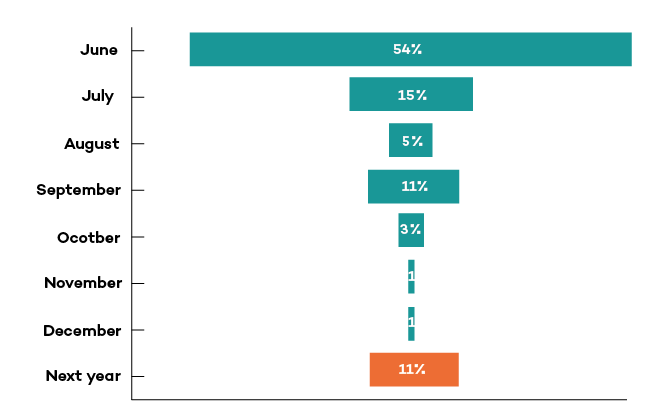 Even with the desire to return to typical work life, understandably over half (56%) of workers are concerned about what this will mean in terms of safety, as Covid-19 continues to be a risk. As government restrictions alter and guidelines are updated, employers can look to government advice for the relevant safety measures they need to put in place to ensure the safety of staff.
With this, Totaljobs research has also highlighted how employees are feeling about the new normal, and the steps employers can take to safely support staff as they return to their normal workplace.
Concerns of workers
Over half (56%) of workers are concerned about their safety when going back to work, with 65% believing it is their employer's responsibility to ensure their health and safety once lockdown is lifted.
With this, a quarter (24%) are not sure which safety measures they would like to see in their work environment – which is why businesses can look to highlight their adherence to government guidelines and recommendations to help put staff at ease. Workers who do have an idea of what measures they'd like to see cited the following: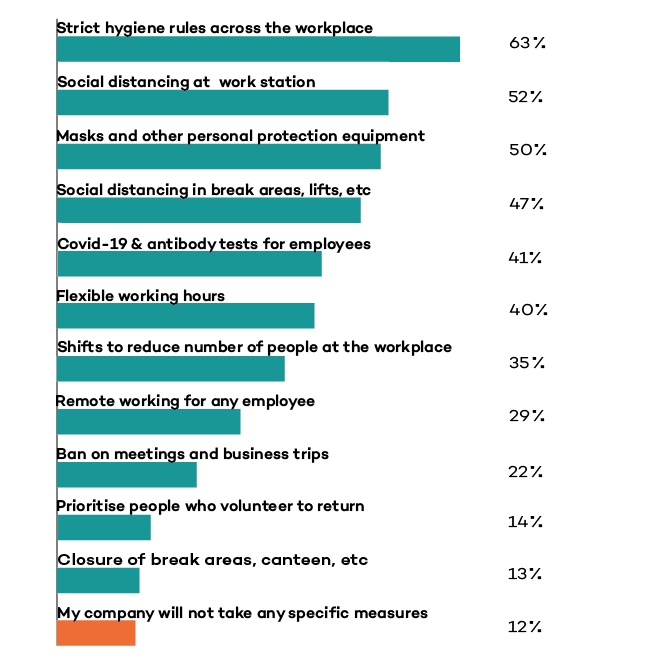 There's also the commute to consider, with 32% of employees concerned about their safety in travelling to work. For Londoners who are more likely to rely on public transport, this is higher, at 60%.
It's not just physical safety that is a cause for concern. The importance of mental health support has been highlighted due to the impact lockdown has had on people's wellbeing. Our research also shows that over two-thirds (67%) of UK workers are concerned about their job security. Businesses should look to acknowledge and address these concerns to support their staff.
Workers report the following factors have been impacted by lockdown: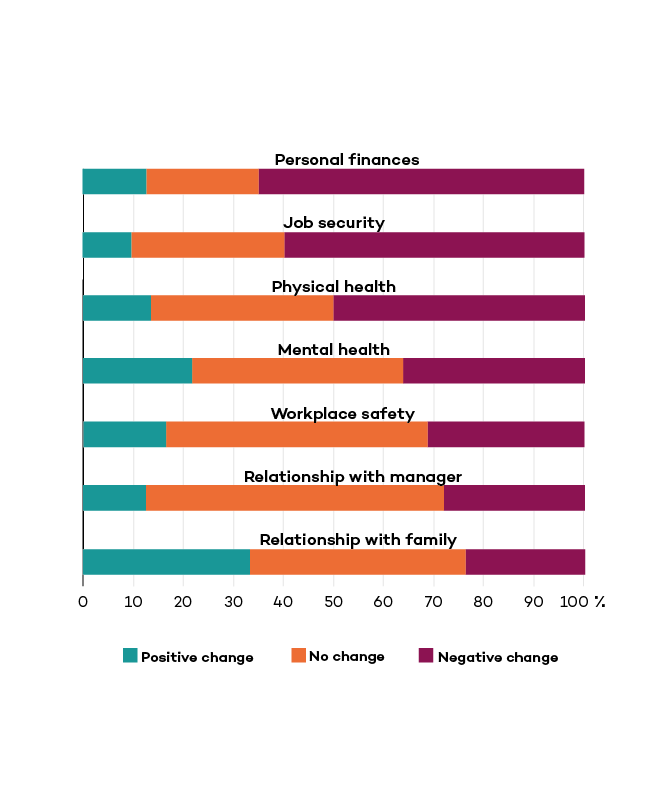 Alongside this, many workers have acknowledged the changing work life that Covid-19 might lead to – some elements of which are still unknown. 60% of UK workers believe that the world of work will 'never be the same again' – for some, this may cause additional stress. This is something businesses should acknowledge, and be transparent about the actions being taken to allow for this transition – as not everyone is looking forward to the return to the workplace.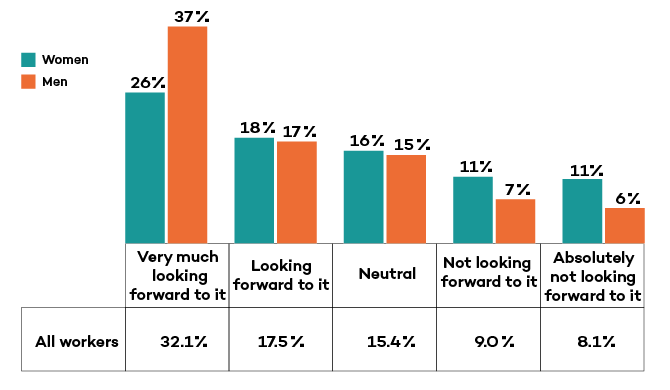 While accurate predictions are not always possible, it's paramount that businesses communicate with their staff and understand how their staff are feeling. Employers can then establish a relevant communication strategy that is aligned with the mindsets of employees, which emphasises with any concerns they have.
Clear communication
Half (48%) of employees don't know what their employer's strategy is when it comes to returning to work. This lack of clarity can add to the anxiousness many people are already experiencing as a result of Covid-19, whether from a place of personal concern for their health, or the health of loved ones.
Many workers feel communication could be improved, with 39% feeling that their employer hasn't been consistent with communicating businesses performance throughout the Covid-19 pandemic. A third (36%) believe they have been kept up to date by their employer.
Previous Totaljobs research has found that 35% of workers now feel more positive about their employer as a result of their business response to Covid-19. Similarly, a quarter feel more loyal. This highlights that clear, consistent communication during crisis is essential not just to support staff through difficult times, but helps to build trust and commitment in the longer term.
Be open to flexibility
Following the lockdown, those who can have worked from home. The government's announcement on 10th May set out a roadmap for easing lockdown, and sectors including construction were able to re-open from 11th May.
In this time, millions of people have been working remotely. As a result of this set up, our research shows 24% of workers have requested continued remote working, while 42% plan to ask to continue working in this way indefinitely. However, 15% of workers have had their request for a longer-term remote working approach denied.
Work-life balance also has a role here. Half (49%) of workers have found that achieving work-life balance is easier while remote working. Outside of remote work, 43% of people who are considering a career change are driven by the need to have better work-life balance.
Actions to take for the return to the workplace
Businesses can follow the latest Government advice, which includes the following:
Risk Assessment
Develop cleaning procedures
Help people work from home
Maintain social distancing
Manage transmission risks
Alongside the above safety measures, businesses can further support staff in the following ways:
Keep staff in the loop at every planning stage, with regular updates in line with government advice
Be aware of how teams are feeling – send out a business-wide survey to get an indication of how employees are feeling, what their personal situation might be and how this might impact their return to work
Ensure employee needs are at the centre of your strategy. Consider which elements may need to be tailored depending on the needs of individuals, whether they are parents, or live with key workers, for example
Be open to flexible or remote working. Staggered shifts can help staff to avoid public transport during rush hour, while checking remote working set ups are comfortable and staff have the tools they need at home means this way of working can continue to play its part in future approaches. Find out more about arranging flexible or remote working here.
Totaljobs CEO, Jon Wilson shares his advice
It is great to see the majority of workers are willing to get back to the workplace – even better that so many are looking forward to it. However, they rightfully retain serious concerns for their overall safety and welfare.

People who return to work in the coming weeks must have reassurance from their employer that their health – and that of their colleagues and family members – is being put first. As employers, it is our responsibility to shape this, following the latest Government advice, and help drive and develop clear, evidence-based plans for the safe return of our employees into the workplace – be it in offices, customer facing shops, schools or construction sites.

During times of non-stop change like these, it is understandable that employees are seeking as much stability and predictability as possible. We have needed to adapt over the past couple of months, but the reality is that we are all going to go through change at least one more time as we settle into a 'new normal'.

If employers are unable to tune into the mindsets of their staff, they could fall short on planning and communication, meaning serious consequences in the long run with trust and loyalty. Totaljobs research has previously shown that a quarter of workers have become more loyal to their current employer on account of a considered response to the Covid-19 crisis. That is why regular, clear and transparent communication between employers and their teams is essential now, more than ever.