Attracting the right candidates into the social care sector
Totaljobs is proud to partner with the Department of Health and Social Care (DHSC) to support retention and recruitment in the adult social care sector. Find out more about what the national recruitment campaign involves.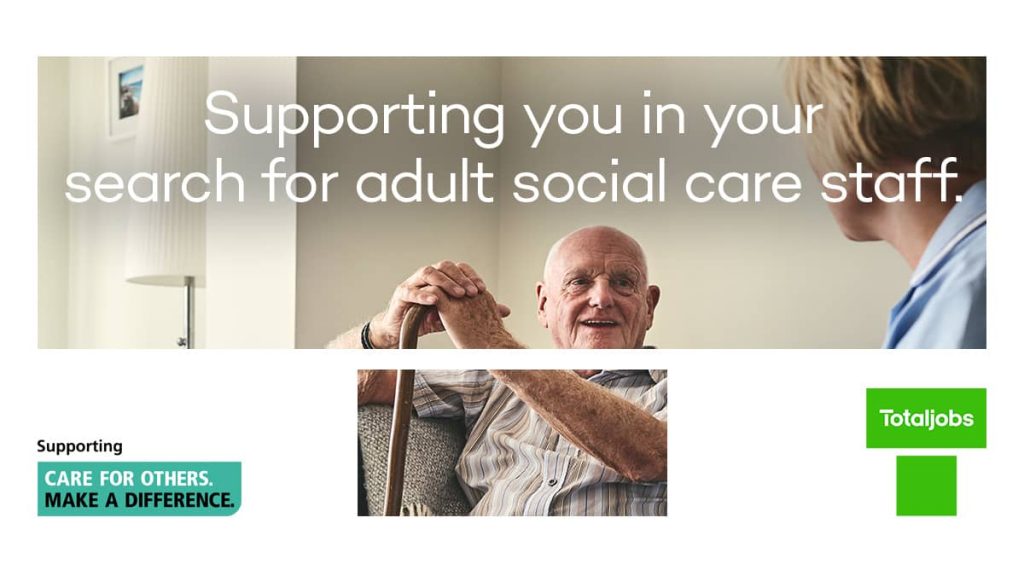 The demand for people working in social care has increased over the past year. With 12,000 roles in adult social care on site, Totaljobs has seen many employers increasing their recruitment efforts. With this, more candidates continue to enter the market, with 67,000 active social care candidates on the Totaljobs site in the last three months. Some of the most searched-for terms within the care sector include: care assistant, support worker, care home and healthcare assistant.
It's essential that we build a sustainable workforce within the social care sector, both for now and the future. Ensuring access to high-quality candidates is key, as is broadening your reach to engage people with experience from other industries who have the right transferable skills and natural qualities that makes them a great fit for a career in care.
Supporting recruitment in the social care sector
Totaljobs is proud to partner with the Department of Health and Social Care (DHSC) to support retention and recruitment in the adult social care sector.
The 'Care for others. Make a difference.' campaign seeks to help fill vacancies across the sector and includes TV, radio, and digital advertising. It is designed to inspire people with the right values and attitude to consider a career in care, by highlighting the rewarding, varied and flexible roles available across the sector.
Totaljobs is supporting the campaign by working with DHSC to raise awareness of adult social care roles amongst jobseekers and providing them with an insight into the benefits of a career in care, and the practicalities of getting started.
Attracting people with the right values
The coming months are likely to see more people considering their career options, and with the right transferable skills and natural qualities, it could mean they make great care workers and can build long-term careers within the sector.
Someone who is naturally compassionate, kind and thoughtful, will find that a career in care brings them a sense of fulfilment, while giving back to others. Often, people who already work in care say that it's the relationships they form with the people they work with that makes their career meaningful to them.
The campaign will help to drive awareness and consideration amongst potential candidates by reframing adult social care as an inspiring and fulfilling career choice, and showing that all a person needs to start are the right qualities, as training from their employer will help them to hit the ground running.
What the campaign means for you
The campaign objective is to increase both the number and quality of candidates applying for social care vacancies. As part of the advertising campaign, people will be directed to everydayisdifferent.com to find out more about careers in the sector and search for jobs, in addition to the care jobs they'll find on Totaljobs.
Millions of people will see the campaign between February and 18th April, but this increased interest will only translate into filled jobs if social care organisations are taking part in the campaign and ensuring that available roles are visible to potential applicants.
Getting your opportunities in front of the right people
Hiring advice for adult social care employers
Shining a light on what it's like to work in care
Case studies can help engage candidates, especially if they don't know the ins and outs of the adult social care industry. They can help to highlight what a typical day in adult social care could look like, across different roles and environments. This helps candidates to picture themselves in the shoes of a care worker and understand how they might perform in a certain situation.
In turn, case studies allow employers to celebrate their existing staff and the value of the work they do. You might want to create your own case study series down the line, or you can head to the campaign resource centre to download films to share across your social channels.
Alternatively, share this candidate guide to a career in care which includes answers to frequently asked questions about jobs in adult social care.