How to conduct a video interview
Here you'll find everything you need to know about conducting video interviews, including a checklist to refer to before the interview itself, plus suggested interview questions to get the most of out of the time you have with your potential employee.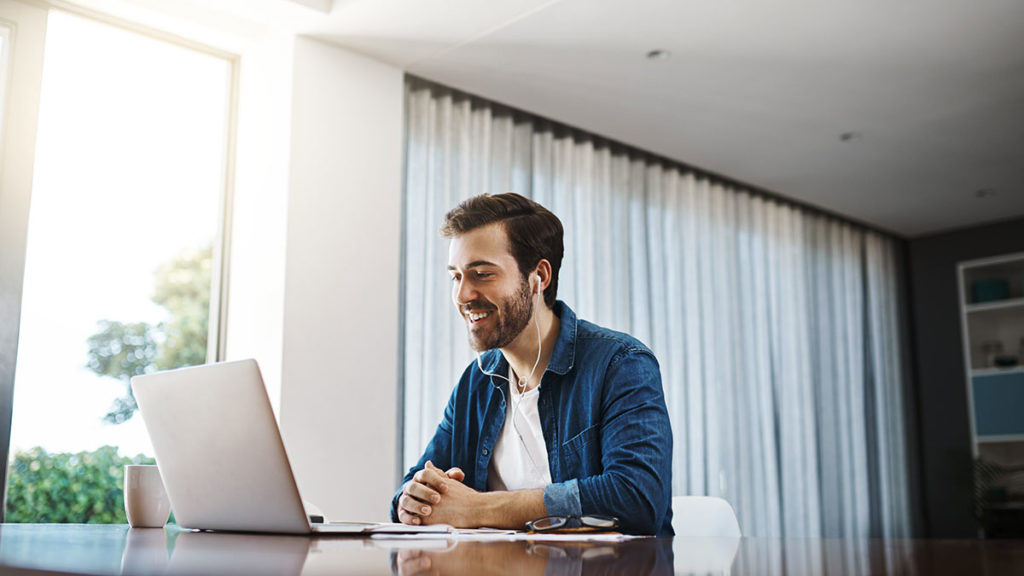 Video interviewing can be used to screen candidates before inviting them into the workplace for a face to face meeting. For remote workers, it's an essential part of the recruitment process, allowing recruiters to interview candidates from the comfort of their own home.
While the structure of an online interview can be very similar to a face to face one, the preparation beforehand differs slightly. Ensuring you've prepped your candidate, have access to easy-to-use video software and have well-structured questions to hand is essential for recruiters to conduct successful interviews.
Pre-interview preparation
Share relevant information before the interview
Two-fifths of candidates feel they don't receive enough information before an interview, so making sure you share all relevant information with them before you sit down to ask questions is essential.
Ultimately, it means the candidate is more likely to perform to the best of their ability, as they've got clear instructions, practical details and any necessary context they might need for the interview.
Whether a video, telephone or face to face interview, take a look at what 4,500 candidates have told Totaljobs about what they need to feel prepared before their interview:
What candidates want to prepare for an interview
Over half want to know how the interview will be structured
Half want to understand the decision-making process and expected timeframe
46% want a reminder of the role requirements for reference
43% want a clear dress code
Over a third want to know how long the interview will last
Decide your video interview format
Pre-recorded interviews
For large scale recruitment drives, having a pre-recorded video interview can act as a screening stage, before then organising a live video interview, or a face to face. Or if speed is the key driver, this can accelerate the process and save on the time you or your team spend interviewing multiple people for the same role.
You can choose to record yourself asking the interview questions or can write them out. Each question will appear one by one on screen, and a candidate can respond via video recording. This makes it easy to compare answers, as all candidates are supplied with the same set of questions and given the same amount of time to answer each one.
Live video interviews
Live video interviews take place in real time, meaning you're able to cover more ground by having conversations outside of your set questions. You can learn a little more about the candidate and they have more chance to get their personality across, outside of how they answer questions.
Preparing for a video interview
A recruiter checklist
Run through the below checklist to make sure you've got what you need before interviewing your candidate via video conference.
Candidate details
Make sure you've got the candidate's contact details to hand, whether it's their email address or phone number to ensure the online interview runs smoothly and overcome any unexpected hiccups.
Test your software
Recruiters should make sure they're well versed in whatever video call platform they're using, to make the process run as smoothly as possible.
Find a quiet space
Find a space with as little background noise as possible. If you're in an office, a private meeting room is best, or if you're set up at home, set up in a quiet room where you won't be interrupted.
Look the part
Follow your company's dress code for a video interview in the same way as you would when conducting a face to face interview – and recommend your candidate does the same. Also consider what will be in the background of the video frame – if your background is busy, your candidate might find it harder to focus on you and the questions you're asking.
Body language
The candidate you're interviewing is likely to be a little nervous, and you can help to put them at ease not just by what you say but in your body language. Be aware of where you're sitting in relation to the camera – being too close can feel unnatural, while being too far away could impact how well you're heard. Having your head and upper body in shot is your best bet.
Test your connection
Make sure your WiFi connection is reliable – you can see the strength of the connection by clicking the WiFi icon. This usually sits in the bottom right corner of your screen. You could even run a test call with a colleague to be sure.
Check the sound
Double check you and your interviewee can hear each other and be aware of any possible lagging on screen if your WiFi connection isn't the strongest.
Best practice for conducting a video interview
Prepare an ice breaker
If you're new to conducting online interviews, you might find it more difficult to naturally build rapport with your interviewee. But just as you would at the start of a face to face interview, avoid going straight into questions, and kick off with a general chat. This helps to put people at ease, and also gives you chance to double check you can hear each other before going into the more serious stuff.
Give your candidate a bit of background about yourself, like how long you've worked for the business, how you work within your wider team, and generally how your colleagues or department contribute and impact the business. This sheds a bit more light on what it's like to work for your business, plus the candidate can get to know you a little better, before they begin answering questions.
Video interview questions
The questions you ask in an online interview can follow the same framework as a face to face interview. In the time you have, you want to understand your interviewee's relevant experience, job history, key skills and what makes them tick in terms of their working style and how they might fit into the wider team.
Questions to ask when video interviewing a candidate
"Tell me about your experience and why it's a fit for this role".
This question is a simple way to check the candidate understands the role requirements and has thought about how their skillset is a relevant fit for it. Listen out for them using keywords from the job description to highlight how their experience makes them a good fit for the role.
"Tell me about a time you solved a difficult problem".
This question gives you insight into how your potential employee's critical thinking and problem solving. Look out for a clear answer that sets out the context, who was involved, what the issue was, why it needed resolving and how it was resolved.
"Tell me about a time you persuaded someone to get on board with your idea, or way of thinking".
This question is about how a candidate gets buy-in and structures an argument to get a colleague, or senior member of staff, on side. In their answer, look out for how they might have adapted their approach depending on who was involved in their discussions.
"What's your preferred way of working?"
This question is a good way to establish how a candidate goes about their work, their preferred way of learning and working on tasks, both independently and as part of a team. It's also an opportunity for you to share any flexible or remote working offerings your business has.
"How do you want to work alongside your manager?"
Again, this question helps you to understand how you can get the best of your candidate if you decide to offer them a job. It also gives you chance to talk about your company's wider structure if relevant.
"Tell me about a time you helped to resolve a team conflict, or how you'd go about resolving one".
This question focuses on interpersonal skills and emotional intelligence. Focus on what role the candidate takes in the conflict. Do they act as mediator, and gather the relevant facts from parties involved, rather than focusing on emotional responses?
"What are your career goals?"
Many candidates consider career development and progression opportunities even in the early application stages, so having an open conversation at this point means you can outline potential future opportunities and see if the candidate's ambitions are in line with your company's strategy.
You can also take a look at our other recommended questions to ask a candidate, or questions to ask during a second stage interview.
Video interview software
Totaljobs is offering video interview software to support employers recruiting while working remotely.
Use Totaljobs Video Recruiting to quickly assess candidates, without the need for a face-to-face meeting or telephone interviews.
Get set up by giving the Totaljobs team a call, or fill out this online form.
How does video interview software work?

Totaljobs' Video Recruiting allows you to:
Set up candidate interviews in minutes.
Work across any device, at a time which suits you and the candidate.
Have a live video call, or save time with automated self-record video interviews.
Reduce bias with a structured, GDPR compliant and consistent video recruitment process.