Hybrid working: what is it and how businesses can roll it out
Hybrid working significantly impacts communication, productivity, and happiness. This way of working comes with pros, cons, and considerations that businesses should be mindful of so they can roll out a hybrid model that works for them.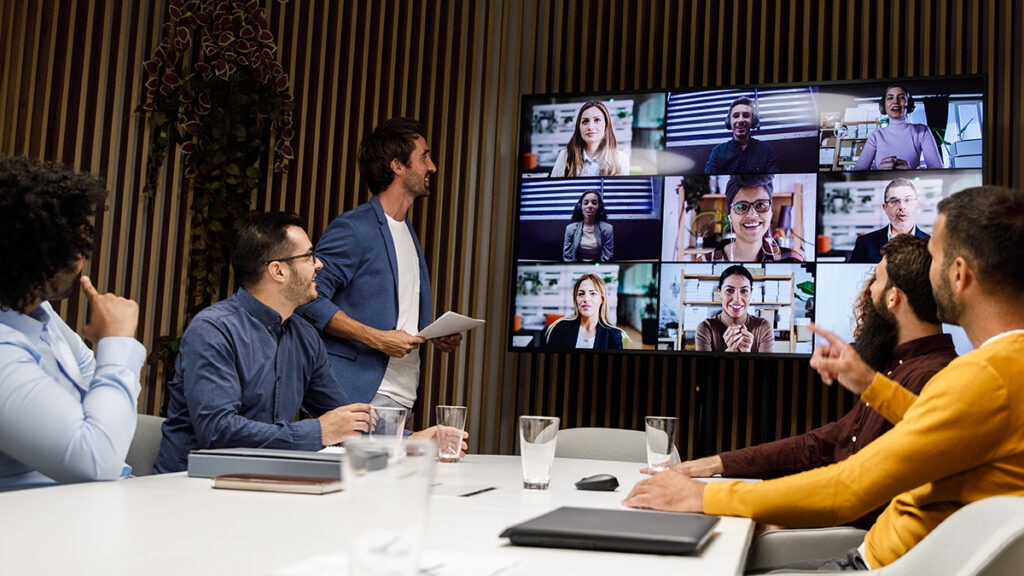 Hybrid working is becoming more common, with almost 1 in 10 (9%) job adverts mentioning the term in January 2023 – that's 47x more compared to January 2020. Hybrid is more frequently mentioned than remote or home working, suggesting that businesses favour the approach that involves some face time in the workplace.
If hybrid working is on the cards for your company, this article offers guidance on the different offerings, considerations, pros and cons of this working model, so you can develop an approach that suits your needs.
What is hybrid working?
A hybrid work model is a form of flexible working that allows employees to split their time between the office/workplace and other locations.
If those other working locations are undefined, an employee can work remotely from anywhere (within reason) when not in the office. Some people mix up their working week by setting up in a café, a coworking space, or even abroad.
Alternatively, a hybrid model will involve working from home. This might mean staff have a dedicated home office if they have the space, or they're simply working from the kitchen table when not in the office.
What are the different types of hybrid work model?
There are different approaches to the hybrid model:
Office-first favours more time in the workplace. Businesses offering this may dictate specific "office days" where they expect staff to be physically present in the office, or outline that staff are expected to be in the office at least three days a week.
Remote-first is the approach where more time is spent working from home, or in any other location that isn't the formal workplace.
Flexible or blended models give extra autonomy to staff, with individuals choosing which days they're based at home or the office. This may be structured around their personal or household priorities, such as childcare on certain days.
A hybrid working model may also encompass flexible hours. Rather than staff being contracted to work between set times each day, they simply need to hit a certain number of hours per week or month, but they can choose when they work.
Why move to a hybrid model of work?
For employers that were unsure of the benefits of remote working, the pandemic was an experiment that proved successful for many businesses and staff. Hybrid working is no longer a bonus but an expectation – even a necessity – for many workers. As a result, employers need to offer hybrid working to stay competitive, attract new hires and retain staff.
Meeting the needs of workers in this way has a ripple effect on job satisfaction and productivity, as well as demonstrating the value an employer places on work-life balance.
What are the pros and cons of hybrid working?
Along with the benefits, there are drawbacks to this working model. By developing your own approach, businesses can pre-emptively build solutions to hurdles to make the most of the positives of hybrid working.
Pros of hybrid working
Carrying our interviews remotely can make candidates feel more comfortable, with a quarter saying that travelling to an interview can be inconvenient. Furthermore, taking on more remote staff means talent pools are no longer limited by location.
Hybrid working provides employees with greater autonomy, helping them feel empowered to make their own decisions about what method of work suits them. They're more likely to feel autonomy in their roles which can mean higher job satisfaction.
Research from CIPD shows that 41% of employers report increased productivity as a result of hybrid or home working. This model gives staff the freedom to choose where they do their best work; for many, deep-focus tasks are saved for days working at home, while team meetings may coincide with office days.
Without the need to commute as often, employees' work-life balance can improve dramatically, giving them more time for personal or household tasks they may typically have to dedicate their weekends to.
Off the back of lockdowns and social distancing, you're more likely to hear people lamenting how easily they get ill. Remote work means people can stay home when they're feeling sniffly, rather than bringing an illness into the workplace that ends up making its way around the whole team.
Agile communication channels like Slack or Teams are more frequently used as part of a hybrid model, which can lead to better teamwork, collaboration and project management.
A remote-first model could save employers money by reducing office space. Meanwhile, a quarter of people believe a hybrid model would support them against the backdrop of higher living costs.
Going remote brings opportunity to more people, such as those with caring responsibilities or people struggling with travel costs. Hybrid working is also more of a necessity for some groups, with McKinsey research highlighting that traditionally underrepresented demographics are more likely to favour a hybrid approach. Our own research shows a third (32%) of women want to see flexible working compared to 17% of men.
The option to work remotely can foster a more dynamic, innovative company culture, as people find new ways to work and socialise with colleagues.
Cons of hybrid working
Keeping the recruitment process entirely remote means that candidates don't have the opportunity to get a feel for the office or the culture before their first day. In terms of onboarding, there are also fewer organic opportunities to get to know the team, which could lead to isolation or stunt career growth for younger workers in particular.
For junior employees who are reliant on asking their manager for advice at their desk, tasks may take longer to complete. Procrastination may also set in for staff who don't have high self-motivation.
Working from home brings distractions for some staff, while for some industries, it's simply not an option to introduce any form of hybrid model.
Research shared by the BBC suggests that hours worked globally went up during the pandemic as hybrid and remote working became widespread. This is because some people are more likely to overwork at home to prove they're being productive when not present in the office.
Too much time working from home could leave people feeling isolated, particularly if they are more extroverted and enjoy seeing people face-to-face.
Collaborating remotely often requires more planning or new tools, which can add extra time and cost to projects. It also relies on technology – and technical hiccups can stall collaboration.
Higher household bills could put pressure on staff who are working from home. However, this could be alleviated by employers offering to subsidise these costs.
Not everyone has a home environment suitable for long-term remote work. In fact, almost a fifth (16%) of people from lower socioeconomic backgrounds don't have a dedicated workspace at home, which could have implications for their health and wellbeing.
If there are no opportunities for staff to spend time (or even meet) in person, it can be harder to build a sense of togetherness. This could make it easier for employees to leave the business as they don't feel a strong affiliation with the company's culture.
How to implement a hybrid work model successfully
Follow these steps for a successful hybrid work setup:
Co-create your hybrid work solution with staff
Every business has a unique workforce and challenges to overcome. Any decision related to the fundamental way work is completed needs to consider the thoughts of staff, so leaders can understand exactly what the sentiment is around proposed solutions and co-create an approach in response.
Our research has shown that 31% of workers prioritise a hybrid working model, while 49% said that the flexibility of the hours they work is the most important factor for them.
Define your hybrid policy
There's no set blueprint to guarantee successful hybrid working. This could look like complete autonomy where a teammate chooses to be in the office five days a week, while another works from a different country every month. It could look like designated office days or events where teams are expected to be there in person. A joined-up approach across HR, people managers and the leadership team will help to clarify the specifics of your hybrid working policy.
Build infrastructure for flexibility
Employees value the choice and freedom hybrid working brings – so be mindful that different personal circumstances may require additional flex. Bigger team meetings may need to be planned further in advance to allow people to make travel arrangements if they typically work from home. Or it may not be the best use of time for a working parent to commute for two hours to the office four times a week when they work just as well at home. Build a fair framework that can be adapted to suit different needs.
Invest in company culture
Be mindful of potential drawbacks to hybrid working. How can you make everyone feel involved in a social if some of them are dialling in remotely? How can you foster "water cooler" chats over Teams? How can you give a flavour of the company culture in remote interviews or when onboarding remote staff? Take the time to understand how hybrid working will change your company culture, and be proactive in protecting it.
Gather feedback
Take regular pulse checks of workforce sentiment to understand how people are navigating changes to the way they work. Be prepared to remain open and flexible. Some obstacles that arise will be surprising or will be very specific to an individual's circumstances. Work closely with your teams to find solutions.
Considerations for building a hybrid working culture
Here are a few perspectives to consider and build into your strategy to ensure you're covering all bases when developing a hybrid working model:
Training and development
What will training and development look like if completed in a hybrid model?
Is it necessary for some training to be undertaken in-person?
Technology and equipment
Have you assessed employees' access to tech and equipment at home?
What support can your business offer to make home workspaces more comfortable?
Health and wellbeing
What safeguards will you put in place to protect staff wellbeing in a hybrid environment?
Have managers been trained on identifying mental health needs in their teams?
Team communication
How are meetings impacted when some staff are in the office and others are remote?
How will managers keep track of the status of projects if teams operate remotely?
What communication touchpoints will you put in place?
Inclusion and fairness
Are certain demographics in your business more likely to favour remote work? What does this mean for workforce diversity?
Does hybrid work have unintended consequences for career development or visibility?
Are there any misconceptions that need tackling about home versus office-based working? E.g., is it assumed that someone who spends more time in the office is more invested in their role? How can you tackle these viewpoints and ensure fairness?
Legal implications
What legal obligations do you have to support employees in creating a home office?
If remote staff are working abroad, is your business aware of tax implications?
Is a clear hybrid or homeworking policy in place?
Have any necessary contractual changes been implemented?
Additional resources